EDITOR'S NOTE: Cody reached out about a year ago telling me of this opportunity for him to become a fellow through Hiring our Heroes and work with us on loan from the Army. I jumped at the chance. I had known him for some time, and realized that with his background in Army Finance, he could be really helpful working with us to understand the complex bureaucracy of the Department of Defense. Cody is well positioned for post-retirement employment at any number of organizations. Selfishly, I am hopeful that he ends up with us. – Mark Cecchini, associate dean, Executive Education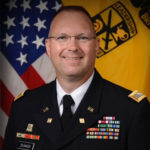 By Cody Zilhaver
I had the privilege of serving as a U.S. Army Finance officer for 27 years, and will be retiring March 1, 2022. Like so many who have served in uniform, I have been focusing on how I will use my military experience and skills in a second career as I transition to the civilian sector. For the last 12 weeks, I've been at the Darla Moore School of Business participating in a fellowship, sponsored by Hiring Our Heroes, an organization that connects separating military personnel, veterans and spouses with American businesses to create economic opportunity and a strong and diversified workforce.
People gain a lot of skills in the military, skills that can be very useful in the private sector, but are in some ways different. In my own case, I have a master's degree in finance, which on its face is not unusual in the for-profit business world. I managed Army budgets and paid the Army's bills, but there the resemblance ends. The Army is essentially a nonprofit entity. You don't have to worry about where the revenue is coming from – it's always there, provided by the U.S. taxpayer. So, understanding the different ways regarding how corporations generate revenue is a concept I don't have much experience with.
At the same time, transitioning service members have to make a number of significant adjustments as they depart the military. Their world has been different in basic ways from the way things are outside. In the military, you don't write two-page resumes, conduct job interviews, or negotiate a salary. Career management is by and large centrally managed. Service members can expect to relocate across the country or the world every two to three years to a new duty station based upon a career progression map. Your rank moves with you from job to job, rather than being re-established and dependent upon each new position. Regarding the salary, it's set by the federal government and is based upon rank and years of service. There's no negotiation involved, and it's fully transparent. Everyone knows how much everyone else earns.
I've been working on two main things during my time at the Moore School. One of the things Associate Dean Mark Cecchini asked me to do was to determine whether ExecEd could create or deliver any new educational packages. So I've been working with Janice Fergusson to develop a new course, which you can read about on our new website that details some of the programs ExecEd offers to the military and governmental personnel.
This newest course is the Certified Government Financial Manager (CGFM) Exam Preparation Program. The CGFM is a professional certification issued by the Association of Government Accountants. It provides a professional standard of financial expertise and ethics and a means by which government financial management professionals are measured. The certificate demonstrates competencies in governmental accounting, auditing, financial reporting, internal control and budgeting at the federal, state and local levels. The objective of the new course, which should be available in the spring, is designed to aid candidates in their review of the material covered on three comprehensive exams. It also teaches best practices in exam-taking techniques. A participant may choose to enroll as an on-campus participant or remotely. It's taught in two formats: as an intense five-day program, or two nights per week, three hours each night, over six weeks.
The second task Mark asked me to do was to develop a business strategy for ExecEd that would refocus the organization by considering the changing business and higher education environments as we emerge from the COVID pandemic. Like so many organizations, ExecEd has been navigating through an unfamiliar environment since the pandemic began. Across the nation, some of the basic assumptions that underlie higher education have radically shifted. This program has seen its customer base change, and has worked hard to stay relevant in a new world – one likely to remain different from the old one even after COVID is gone. We've looked particularly at how customized education can better serve corporate and government sectors in the next few years. We've been developing a vision for the future aimed at bolstering brand recognition to stand out, cultivating relationships with likely clients, and evolving to match likely clients' needs.
Along the way, I've had the chance to work with Mary Ruffin Childs on reaching out to Moore School alumni who are veterans or currently in the military. All in all, it's been a great experience. As I prepare for my second career, I greatly appreciate this opportunity provided to me by the Darla Moore Business School. The people I had the pleasure to work with on a daily basis were simply fantastic. They welcomed me with open arms and treated me as one of their own from the very beginning. The interactions I had, and the skills I learned, will certainly set me up for success moving forward. Moreover, the organizational culture, working environment and professionalism at the Business School are simply terrific. What a great place to work!
Colonel Zilhaver is a graduate of Edinboro University of Pennsylvania and was commissioned through the Army ROTC program in 1994. He has served 27 years in the Army as a Finance Officer. He holds a master's degree in finance from Webster University, a master's in national security and strategic studies from the Naval War College, and a master's in strategic studies from the Air War College.