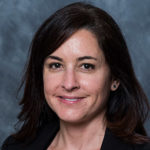 By Lynn A. McFarland
A lot of people see leadership as something you're born with, but that is just not the case. While leading may come easier to some more than others, anyone can be taught to be a more effective leader.
The belief that everyone has the potential to improve as a leader is at the heart of an Executive Education course I teach at the Darla Moore School of Business called Being an Effective Leader. It's the second of three courses leading to a Certificate in Strategic Leadership from ExecEd. Last month you read about the first course, Translating Strategy into Results.
When participants have completed the leadership course they will:
Understand the "Six Domains of Leadership" and how to apply them to their leadership roles.
Understand which domains require the most development (based on their personalized survey results).
Have a specific and actionable plan for how to further develop leadership strengths while improving weaker areas in order to become a more effective leader.
Like other courses in the program, the leadership course is kept small (8 participants or less). However, the Leadership course is split into two parts. The first part occurs before the class even convenes. Several weeks before the class, participants are asked to complete a survey that assesses their competence on six leadership dimensions. In addition to performing the self-evaluation, we ask participants to identify peers, subordinates and supervisors who have the opportunity to observe their work behaviors. These individuals are then contacted and asked to respond to an anonymous survey to describe how they perceive the participant on the same six dimensions. This offers a 360-degree perspective of the participant's current leadership effectiveness.
About a week before the class begins, we send the participants a personalized report describing the survey results (summarizing the perspective from each referent group), and I talk with them via Zoom to help them understand their results. It's crucial that participants take the feedback as intended — as a development opportunity! I strongly advise participants against getting defensive or trying to figure out "who said what" about them. Instead, I encourage participants to devote their energy to learning how to address their leadership blind spots to become more effective leaders.
The second part of the course is the class itself, which is a two-day event where we discuss how to build more effective leadership habits and competencies to address the weaknesses identified by the survey. The class includes exercises that help participants learn behaviors that will allow them to be more effective leaders. Some of these exercises are conducted as a group and others involve dyads or individual activities. For instance, we do an exercise that demonstrates how a simple situation can be interpreted in vastly different ways. We then discuss what leaders can do to avoid such misunderstandings so that they do not derail subordinates or even poison the culture of the workplace.
Participants are not required to share their survey results with the group. However, they are encouraged to take that risk. The class is highly interactive and by the end of the course participants have a good idea of what each person's work environment is like and they often offer insights to help each other. Therefore, by sharing with the class, participants are able to learn from me and their fellow participants.
Before the end of the class, each participant creates a development plan that specifies precisely how they intend to address the leadership gaps identified by the survey. I help them develop the plan and discuss how they can use their everyday work environment to continue to develop the skills they learned through my class. After the class, I make myself available to speak with former participants to discuss any issues they may have implementing their plans and provide guidance for how to continue to realize their leadership potential.
You may be asking yourself, "does all of this really work?" In speaking with former students, the verdict is, YES! But, if you'd like more impartial evidence, you should know that new participants often come from organizations where our former participants are from. The fact that former participants are recommending the program to their colleagues is the best indicator of the success of the leadership course (and the three-course program, more generally)!
Dr. McFarland is an assistant professor of management in the Darla Moore School of Business at the University of South Carolina. She received her Ph.D. in Industrial/Organizational Psychology from Michigan State University. Dr. McFarland has published her research in leading management journals and has consulted with organizations in both the public and private sectors for over 20 years.