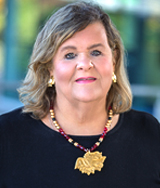 By Mary Ruffin Childs
Executive Education is offering a series of courses designed specifically for Moore School alumni, so they can gain important new skills at an affordable price, while not missing a step in their careers.
As the senior director of the Office of Alumni Engagement at the Moore School, I'm very excited about this new way of serving our alumni.
Here are the four courses in the new Alumni Professional Development Series. They are all offered virtually, to alumni only, and each class lasts an hour and a half:
Making Sense of Data Analytics – Dr. Mark Cecchini will teach about trends in data analytics and what to expect over the next few years, examining case studies of successful outcomes using data analytics and machine learning for companies in several different industries. He will offer guidance on what alumni can do to take the next step in their analytics journeys. Tuesday, Feb. 1, 2022 – 7:00 p.m.
Executing Strategy: Making it Happen – Dr. D.J. Schepker will offer tactics for translating abstract strategic items into concrete actions. Alumni will learn how organizational structure can both help and hinder strategy execution, and how to design control systems to link strategic objectives to individual behaviors. Tuesday, Feb. 8, 2022 – 7:00 p.m.
Remote Work Management Success – This one is as timely as can be. Dr. Kasie Whitener will teach how to design a strategy, train managers to execute it, and thoughtfully evaluate its success. Tuesday, Feb. 15 – 7 p.m.
Becoming the Best Leader You Can Be – Dr. Lynn McFarland will help alumni gain insights into their personal leadership styles, and teach them how to demonstrate authentic leadership and become more effective leaders. Tuesday, Feb. 22, 2022 – 7:00 p.m.
This is the essential next step in the Moore School's multi-pronged Alumni Engagement effort, which aims to help alumni connect with their fellow graduates, give back as mentors to current students, and leverage their respective professional network for students to meet the people they need to know.
This effort started when Peter Brews became our dean seven years ago. He led the creation of a strategic plan to make sure the Moore School offered a world-class education through all its programs. Part of that was to ensure that all students secured internships leading to full-time jobs.
He loved something our namesake Darla Moore likes to say about our students, and he repeated the mantra so that all learned it: "We are all co-investors in their education and their future."
One way of living that principle was to engage with alumni to help current students obtain those essential internships. To help make that happen, we started going on the road.
We started with six key hubs where we knew many of our alumni were located: New York, Washington, Charlotte, Atlanta, Charleston and Greenville. Over the years, the number of destinations expanded to 15.
A crowd of key people representing all Moore School programs went along to these gatherings, which were not only about helping students get internships, but also about helping the alumni themselves get together and network with each other.
Next came the online effort. Check out Moore Connect – https://mooreconnect.com/ – which is all about helping our graduates find connections through the Moore School's global community.
We were doing so much already – the traveling, the online platform, and events at home such as our awards dinner and Shuck and Shag.
But one thing was missing: How could we help our alumni continue to develop as their careers progressed? Occasionally at our gatherings, we would offer a presentation on, say data analytics, and the alumni ate it up. They would want more. But they told us they weren't looking for another degree, and they couldn't take time to go back to school.
And then there was the cost. They needed something they had both the time and money for.
So now ExecEd is offering the Alumni Professional Development Series. If you're an alum, you can take them from anywhere, because they're virtual. Each class lasts 90 minutes. And the cost is $100 for one class, and $200 for two or more.
Learn more at https://www.mooreexeced.com/alumni/.
Mary Ruffin Childs is senior director of the Office of Alumni Engagement at the Darla Moore School of Business at the University of South Carolina. A graduate of the Moore School herself, she served for 16 years as assistant executive director of marketing, membership and communications at the University of South Carolina Alumni Association (My Carolina).