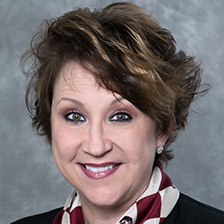 By Georgia Holmes Doran
My father, a psychologist, had a little joke about human intelligence. "You only get so many rocks in there," he would say as he tapped us on the head.
You can certainly make the most of your given intellectual capacity with education – especially by learning to read, and then reading every useful thing you can. But such effort won't make you Albert Einstein, unless you were born a genius.
That's IQ. But what about EQ – your Emotional Quotient? With EQ, I have better news.
EQ deals with a lot more than just simple brainpower: How do you behave and react in interpersonal relationships, at work or in your private life? How well do you communicate with other people? Do you recognize their motivational needs, and know how to meet them effectively? Can you accurately interpret body language? Do you know how to lead others? Are you comfortable navigating the dynamics of a group, or do they mystify you? Can you stay cool under stress?
In this fast-moving world, if you aren't clear and persuasive the first time, you may not get a second chance to present yourself successfully.
But here's the good news: Unlike with your IQ, everyone has EQ skills that can be developed or augmented to help you perform better in life.
And at Executive Education at the Darla Moore School of Business, we can help you raise your EQ level. I teach a course, offered under Open Enrollment, called "Leveraging Your Personality at Work: The Birkman Method®." Learn more about the course, which will be offered March 22-23, here: https://www.mooreexeced.com/open_enrollment/leveraging-your-personality-at-work-the-birkman-method/
What is The Birkman Method? In 1951, Dr. Roger W. Birkman created the Test of Social Comprehension, based on experiences he had had in the Second World War. He developed it to measure human characteristics he saw influencing behaviors, motivations, and perceptions. Today, that test is known as The Birkman Method.
In my classes, students will also learn about the four pillars of emotional intelligence, which are:
Self-awareness
Self-management
Social awareness
Relationship management
Self-awareness is at the very foundation of learning to increase your EQ. It's the largest part, and perhaps the hardest as well. You not only have to look at yourself in the mirror, but see what's really there, and attempt to see yourself as others perceive you.
Your everyday self-perception doesn't always equal reality – in fact, it seldom does, if you don't understand how others perceive you. It's easy to tell yourself, "I'm really a great guy." But without a high level of interpersonal understanding, it doesn't help you deal more effectively and happily with your fellow humans.
Improving your EQ is clearly a decision you have to make yourself. You have to be willing to perceive yourself accurately in a social context, and say to yourself, "These are the things I need to work on or manage differently." And then follow through.
You don't have to do this. You can go through life without attempting to increase your EQ level. However, it may not be a particularly successful life – or a happy one.
You have to want to enhance your EQ in order to get the job done. And it takes more than willingness – it takes a good measure of courage as well. It doesn't happen without some hard work. And you don't get there without taking the first step.
If you're a Moore School alumnus or alumna, we have another course option that helps you take that step: "What's more Important? – EQ vs. IQ" is a 90-minute workshop being offered – only to alumni – on March 15. Learn more about that here: https://www.mooreexeced.com/alumni/
Georgia Holmes Doran is the director of the Office of Career Management at the University of South Carolina's Darla Moore School Business in Columbia, South Carolina. Her background includes more than 20 years of recruitment, teaching, marketing and presentation experience. Georgia earned a B.S. in Education from the University of Georgia and a M.Ed. in Student Personnel Services/Higher Education Administration from the University of South Carolina. She is certified in The Birkman Method, and to administer and interpret the EQ-I, which measures levels of emotional intelligence. She assists corporations with integrating a multi-generational workforce.